So in my efforts to boost my level of Chinese from its pitiful, deteriorated state, I've been watching a lot of Chinese TV. In the apartment I've rented for a month here in Shanghai, I have a TV (score!), many channels (double-score!), but only a few that actually work (oh.). So, late one night, perched on my couch, I turn on one of the few channels I have.
It's a late night show and the heavily done up, but very pretty, host goes backstage to stick her microphone in the face of three very un-made-up girls in various states of undress. As she speaks to each plain-faced girl, a spotlight segment comes up introducing who she is in "real" life: i.e., a model, a TV host, etc. And shows them as we, the public media-consuming audience, usually know them — and they are completely unrecognizable from the girl being interviewed! Incredible!
The camera then follows them up on stage where they each sit behind a station piled with products. The girls start putting on their make-up in front of the live studio audience, and each step of the way, the camera and host follows along. And, like magic, these dumpy girls are transformed, step-by-step, into near goddesses (well, more accurately, one transformed into a near goddess, the other two into very pretty, but normal, looking girls).
It made me think about all the regular girls I pass on the street every day…and the miraculous change that these girls on television, no different from the ones on the street, underwent. By themselves! Without the powers of a make-up artist or Photoshop. God, it really illustrates how massive the color cosmetics market is in China, huh? Women here just haven't formed beauty habits like the ones you see so regularly in the West. So the typical Western (or Westernized) woman and her "normal" consumption behaviors, in terms of makeup, well….that's one blush brush, one foundation stick, one eyeliner that her Chinese counterpart has yet to pick up. So unbeknownst to the girls you see on the street: they're wielding the power to make the market explode.
And the phenomenon of the Makeover is everywhere here. On late night TV  segments, magazines, ads, you name it. Before and afters are very popular features. So it's not too big of a stretch to think that yes, girls here are beginning to buy into this "dream": that every plain-faced girl is just one makeover away from heavenly. Now I, personally, prefer a more natural look for everyday wear, but am very appreciative of miracles all the same.
I always believed that it is much harder to create these kinds of before and after transformations on Asian faces (as opposed to Western women, with their defined bone structures). A little bit of shadow on the eyelids of a Western face can bring a gal from plain to glam in just a few strokes (celeb point in case: Jennifer Garner). But this TV segment illustrated for me the 2 keys to a miraculous Asian transformation: evening out the skin tone and playing up the eyes.
Face
Girls in China have traditionally only focused on two areas of the face: eyebrows and lip. But the most basic piece, the canvas, their Asian skin, when not evened-out can be sallow, dull, with variations in the yellow undertones. Particularly if you have thinner skin, there may be more pronounced darkening under and around the eyes. The girls on the show demonstrated what a world of difference just a little bit of concealer and foundation can do. They were particularly fond of using liquid concealer brush-pens, and foundation in pressed powder form.
Get the Look:
Giorgio Armani Lasting Silk UV Compact
$59 USD
To buy: http://www.giorgioarmanibeauty-usa.com/_us/_en/makeup/face/foundation-primer/lasting-silk-uv-compact.htm
Yves Saint Laurent Touche Éclat Radiant Touch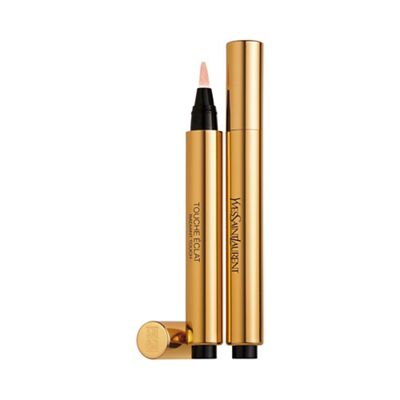 $40 USD
To buy: http://touche-eclat.com/en#/en/home
Eyes
Mr. Shu Uemura strongly believed that the eyes are the most expressive part of the face, and thus, play a crucial role in make-up. Taking a cue from the Japanese and their skill in playing up the eyes, the girls on the TV segment really paid attention to this area. Most crucial make-up tools and products? Eyeliner (usually swiped across the eyelid in one bold stroke) and false eyelashes.
Get the look:
Shu Uemura Painting Liner in Black
$24 USD
To buy: http://www.shuuemura-usa.com/_us/_en/makeup/eye-liner/painting-gel-eyeliner.htm
Shu Uemura Black V False Eyelashes
$22 USD

To buy: http://www.shuuemura-usa.com/_us/_en/accessories/false-eyelashes/natural/black-v-false-eyelashes.htm
What say you? Think an untapped beauty market could potentially be swept away by the powerful promise of "a new, heavenly, made-over you"?